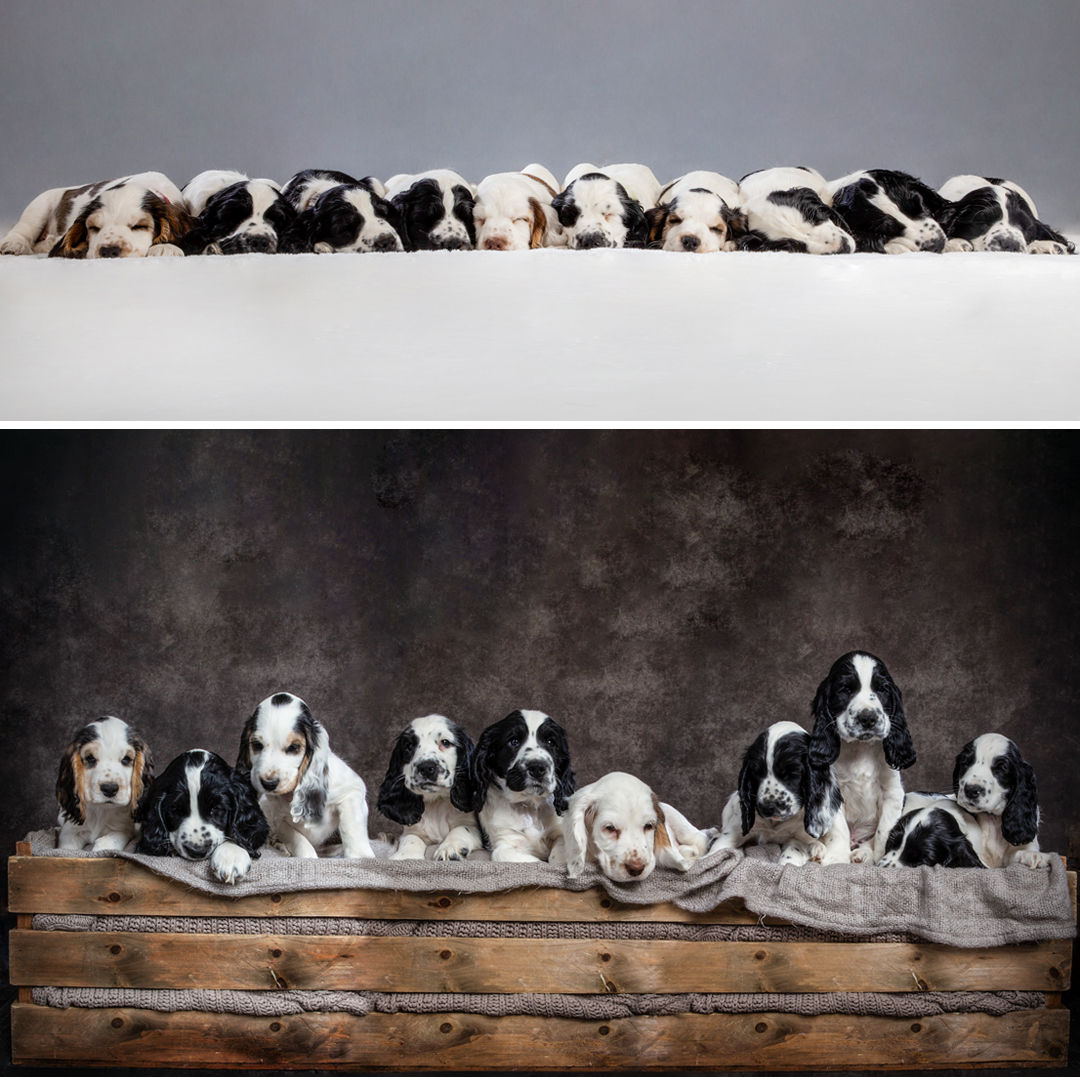 Our first session back in the studio just happened to be one of the best sessions of the year so far. We are all pet lovers in the studio and who can resist a puppy? So we were joined by 10 Cocker Spaniel puppies all extremely cute and who we couldn't put down from the moment they came into the studio. Since we have shared the images from our social post, which reached a large audience of dog lovers, we have had numerous people ask how we managed to pose 10 puppies all in one image. Everyone assumed it was a heavily Photoshopped image. To be very honest it was a huge learning curve for us as the most we had in the studio before was six dogs but we managed it and here are our tricks of the trade…should you happen to photograph 10 puppies!
Sniffing around
Ten excited puppies are hard to contain so we gave them plenty of time to have a look and sniff around the studio. Knowing they were on their way we managed to move all chewable items out of reach (apart from the odd chair leg as we later found out) and then let wander around. Not only does this calm them down and get them used to the lighting but it tires them out which is exactly what we needed.
The magic of Photoshop
We started the session by shooting each puppy individually knowing that there would be a possibility that we would have to use the magic of Photoshop to edit them together. Each puppy was placed on the same white posing block to ensure they all had the same background and were at the same height. A well placed hand behind them made sure they didn't fall backwards and with the help of a squeaky toy we could catch their attention long enough to take photos of them. This is a great way of capturing their personalities too.
Slowly and quietly
About 30 minutes into the session each puppy starting laying down and showing signs that they were getting sleepy. We quickly set up the background we wanted complete with a fluffy blanket and one by one placed them carefully on the rug with someone constantly stroking them to keep them asleep. About 10 minutes later they were all fast asleep and all we had to do is arrange them in a perfect row – with no need for any Photoshop tricks this time! After we had taken as many as we could of that position we started slowly moving them into different poses to get as much as we could before they woke up which as it turned out was another three poses.
So many puppies…not enough props
The last shot we wanted to get was all of the puppies in a wooden crate as the colours look great together. With only one crate this wasn't going to work so we had to shoot three at a time in the crate and then Photoshop this together afterwards. Time was also running out by this point too as they were wide awake and ready to explore again. Still, we had managed to get every shot that we wanted to do and a few extra too.
The results are amazing and we are really lucky to have the opportunity to shoot this many puppies in one go. It took a bit of patience, well behaved puppies and a touch of Photoshop but we got there in the end.
If you would like to see more pet images, head over to our website here.