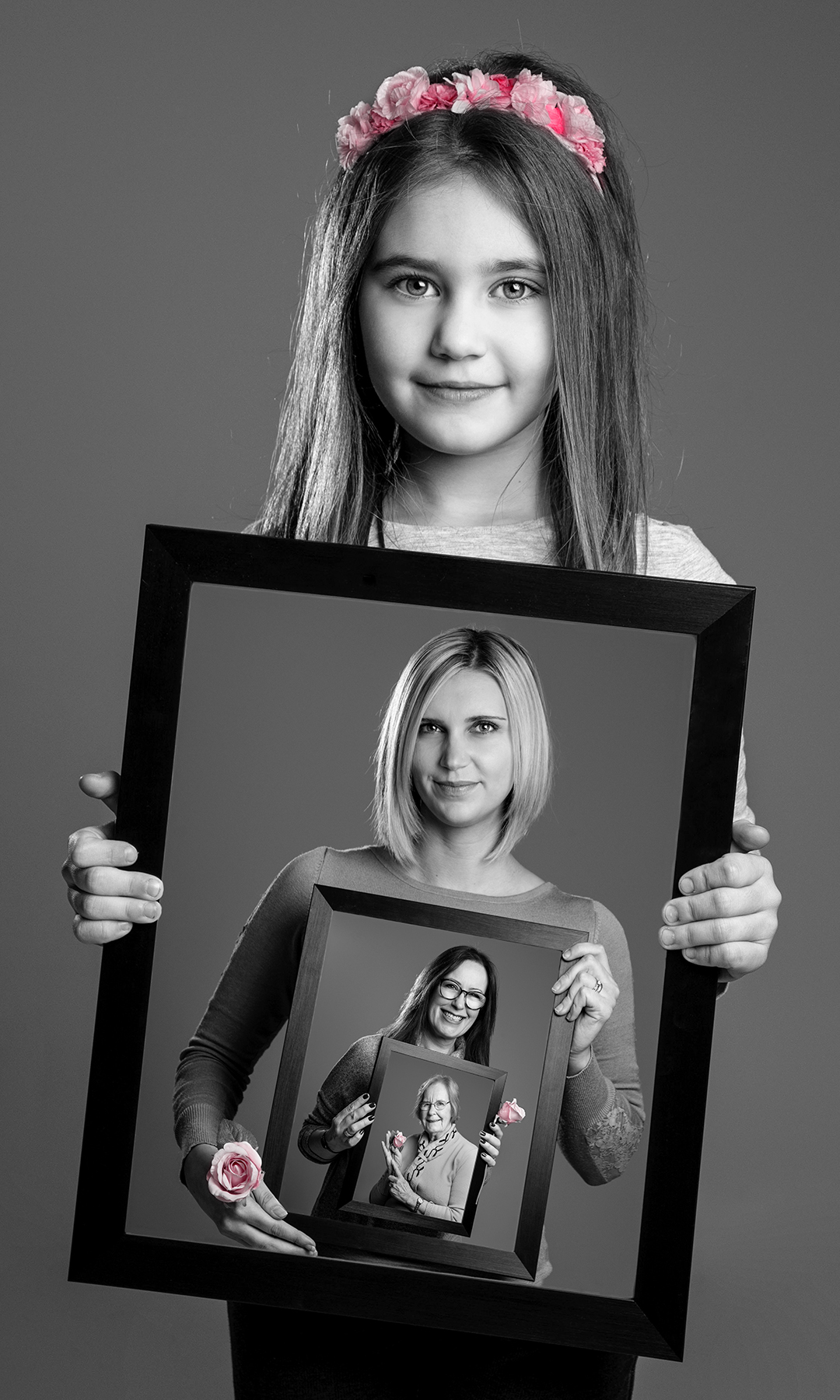 Generation sessions are quite rare at the studio.  Especially those with more than three Generations. Do you have photos of your Grandparents at home? Old black and white images of them perhaps on their Wedding day or a photo of them holding you as a baby? We bet you really treasure these photos because they are the only ones you have and know that they can never be replaced. Digital images have changed the way we look at photos, store them and even the value we place on them. We can take hundreds of photos and delete the ones we no longer want, we can edit them and share them but very rarely do we question who is actually in them.
This Mother's Day we are using an image that has most certainly been done before but is also quite powerful. Four generations of women, each holding an image of the generation before them. Whilst it is a lovely image (and currently hanging at 60 inches large in our shop window) the message behind it is what we would like to try and get across to our customers when thinking about who to bring along to their photo session. Grandparents rarely want to be in photos. With one excuse or another, usually concerning wrinkles or that they aren't dressed right, they opt to sit at the back and observe there Grandchildren enjoying themselves. In years to come the Grandchildren will not care about how you looked that day or what you were wearing, but that they have photos of you together.
As some of you may know Ray is the Chairman of the Master Photographers Association and currently campaigning to spread the word of Generational Portraiture. We sometimes struggle to promote this at the studio because the underlying message can be a sombre one. The tag line of  'make sure you have photos taken before your Grandparents die' is not something we think would work well! However, we want to make sure that there are quality images of the more senior members of your family (not iphone snaps) for future generations to remember them by.
Ray has taken part in a video promoting the need to highlight the importance of Generational portraiture which can be viewed over on You Tube here.  The message is clear but hard to get across to our customers that whilst we are in the business in helping people capture memories we need YOU to bring along the most important people in your life….including your Parents and Grandparents.
Recently the Queen released a photo of the four generations of her family and if it is good enough for her then it is certainly good enough for us!
For more details on our Family Gift Experience Vouchers head over to our offers page.