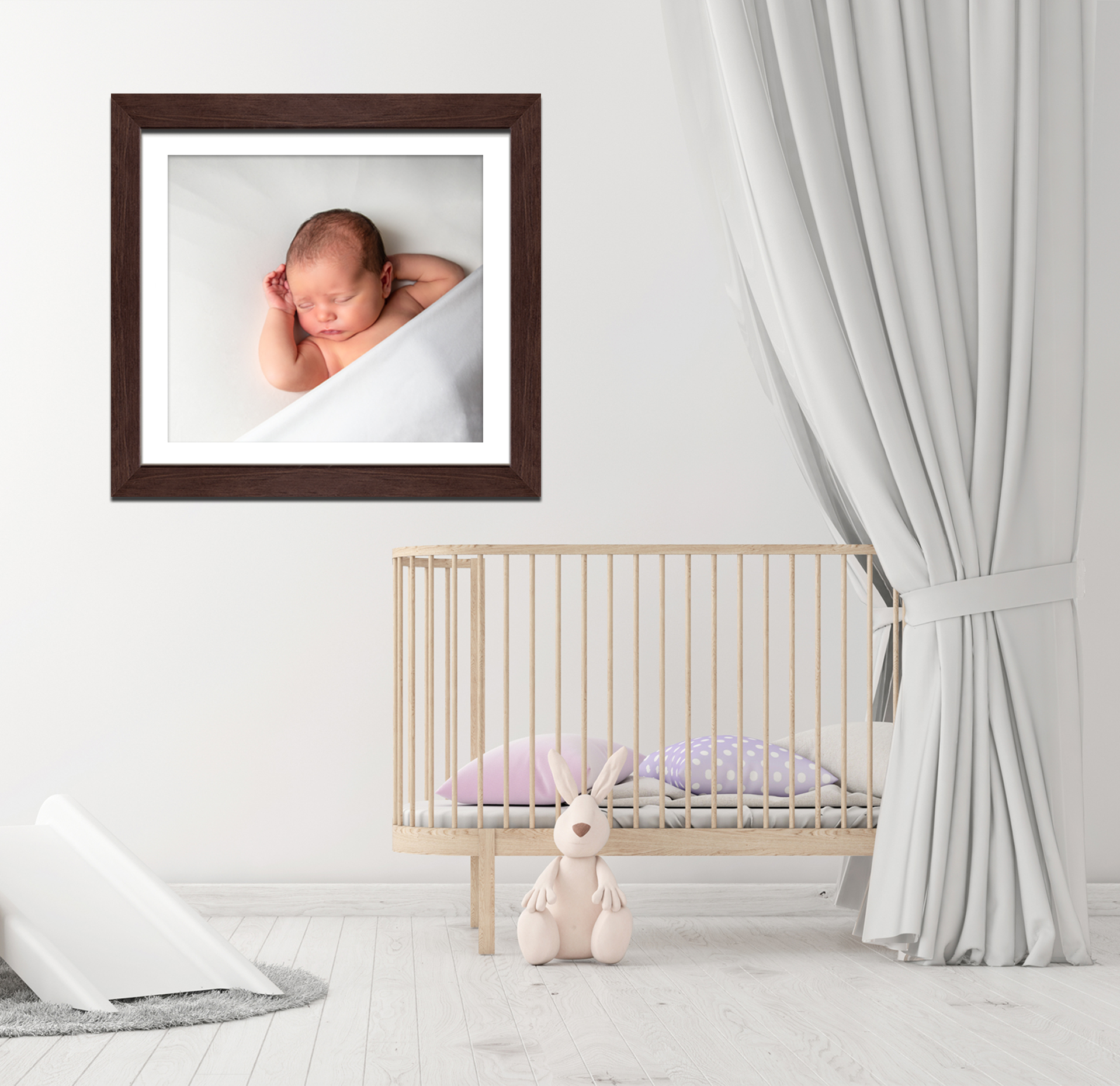 This month we have been in business for 46 years. Not only has it flown by but we have seen a lot of changes in the photographic industry during that time. Apart from the huge jump to digital photography, the biggest change has been how our clients display their images at home.
Long gone are the days of thick, heavy wedding albums that are hidden in the loft. Now our clients want sleek coffee table memory books. Numerous desk frames are now being replaced with screensavers. Styles may be changing but our clients still want to display their memories on the wall just in a more modern, contemporary style.
One of the most common questions we get asked at the studio is what is the best way to display our images at home? The only thing we can do is offer advice but ultimately that is up to you. Here is how we decide what makes it onto our product guide and what to consider when choosing how you will display your memories.
Digitals
Before we started shooting digital images, no one ever asked for the negatives from their photoshoot. However, it is the first thing we get asked for in this digital age. Our clients have had a fabulous shoot and want to share their images with their loved ones, show them off on social media, make cards at Christmas and use them as a screensaver. We think digital images rock and there is so much you can do with them. They are easily accessible at the touch of a button, shared many times and printed whenever you like. However, if you are being completely honest with yourself, will you ever get around to printing them? We have families who regularly come along for a session, choose their favourite images to have on a USB and NEVER get around to printing them out.  Those beautiful images you could see every day are stuck on a USB never to see the light of day. Digital images are great for keeping a backup and sharing with friends but the images that really make you smile should be in plain view every day.  Every time you enter a room you see images of your children laughing or your parents hugging the grandchildren or your beloved pet that is the love of your life. That is what should be on your wall and we want to make sure it looks incredible.
Wall Portraits
Now this covers a whole host of different options. We have tried and tested quite a few products in our time, and a lot of suppliers. Listening to our customers is the best way to find out what works. Here is our list of what has stood the test of time and what is up and coming.
Classic frames
They are called classic for a reason. There is a huge choice when it comes to frames but a well-made solid wood frame will always look amazing. A frame that doesn't take the attention away from the image is ideal, with the correct size mount and non-reflective glass. Then take into account your home decor and where it will be positioned. Will a statement chunky frame be a great addition to your home or a sleek minimum frame? Whilst most clients want something large to fill a wall, would it look better with three smaller frames? A square frame complements most areas but a rectangle could fit your space better? It may feel like a lot of questions but it is always worth thinking about before you come and choose your images. Still not sure? That is what we are here for. We like to think of ourselves as somewhat of an expert in this field after 46 years and can help guide you through the process.
Canvas Wraps
We've been offering Canvas wraps for years and 10 years ago it was THE product to have (at the moment it is Acrylic) but it is also a classic material. If you visit any gallery or stately home the image will have been painted on Canvas. It can give images a softer feel, it displays colour very well and will last the test of time, as long as you keep it out of direct sunlight. It is also great if you really aren't sure about what will go in your home as there isn't a frame to worry about. In our reception area at the studio, we have three huge canvas wraps which a bright red and we love them!
Acrylic
Now, this is probably the most ordered product at the studio. It's been around for a little while but still looks sleek, stylish and photos look amazing on them. The clarity is wonderful, the colours are vibrant and it can go anywhere. More recently we have been offering the ORB, a circular Acrylic that doesn't work with every image but looks amazing when it does. An Acrylic isn't for every home though, if you put it in a conservatory or very bright room it will just reflect the light so think about where it is going to go in your home before choosing which product to have it printed on. On a practical front, acrylics are very easy to clean too!
Collections
We have experimented over the years with countless different collection ideas. Collections you can change around yourself at home, images that interlock and move, frames with so many images you don't know where to look, but we think we have finally cracked it. Collections are so personal and need to be made to tailor each family. Clients choose their favourite images and we then put together options about how to display them. A newborn collection of images with photos of tiny toes and teddies is a great example of how a collection of images works beautifully. Each image needs to compliment each other rather than fight against each other to create a harmonious photo. Collections are perfect for when you just can't choose. When 0ne main image on the wall just isn't enough and there isn't enough wall space to put up everything you like.
Albums
We waved goodbye to albums quite a few years ago. Not because we didn't like them but because our clients and their feedback just pointed to them being too restrictive. Once their photos were in albums, that was it. They couldn't display them, they were rarely looked at and ended up much more of a keepsake. We've tried a few options until we arrived at our Memory Box. Like an album in that it contains 10 or more of your favourite images, these are individually mounted and can be taken out and displayed at any time. Or kept in the very stylish display box as a keepsake, or left out on a coffee table. Plus it contains a USB should you want to print out copies in the future. It covers all bases and it looks like it is here to stay.
Prints and desk frames
You really can't go wrong with prints. They are the answer to all questions when it comes to deciding on your images. If you need a gift, they make the perfect present. If you don't know where it will go in the house yet, you can frame a print when you are ready. Want to do a gallery wall (very popular at the moment) then prints are a great place to start. Want to display them on the shelf or mantel, then choose a print. Great sizes, easy to frame and versatile. Simple.
Best of the rest
Some things just didn't make our product guide this year but it doesn't mean we can't source them. Metal prints, photo cubes, cushions are recent examples of requests from our customers. When you've been in the business as long as us, you always know someone that can help!
However you want to display your images, we are always happy to help. Head over to our product pages to check out images of what we offer or get in contact for a copy of our product guide. We look forward to welcoming you to the studio soon.