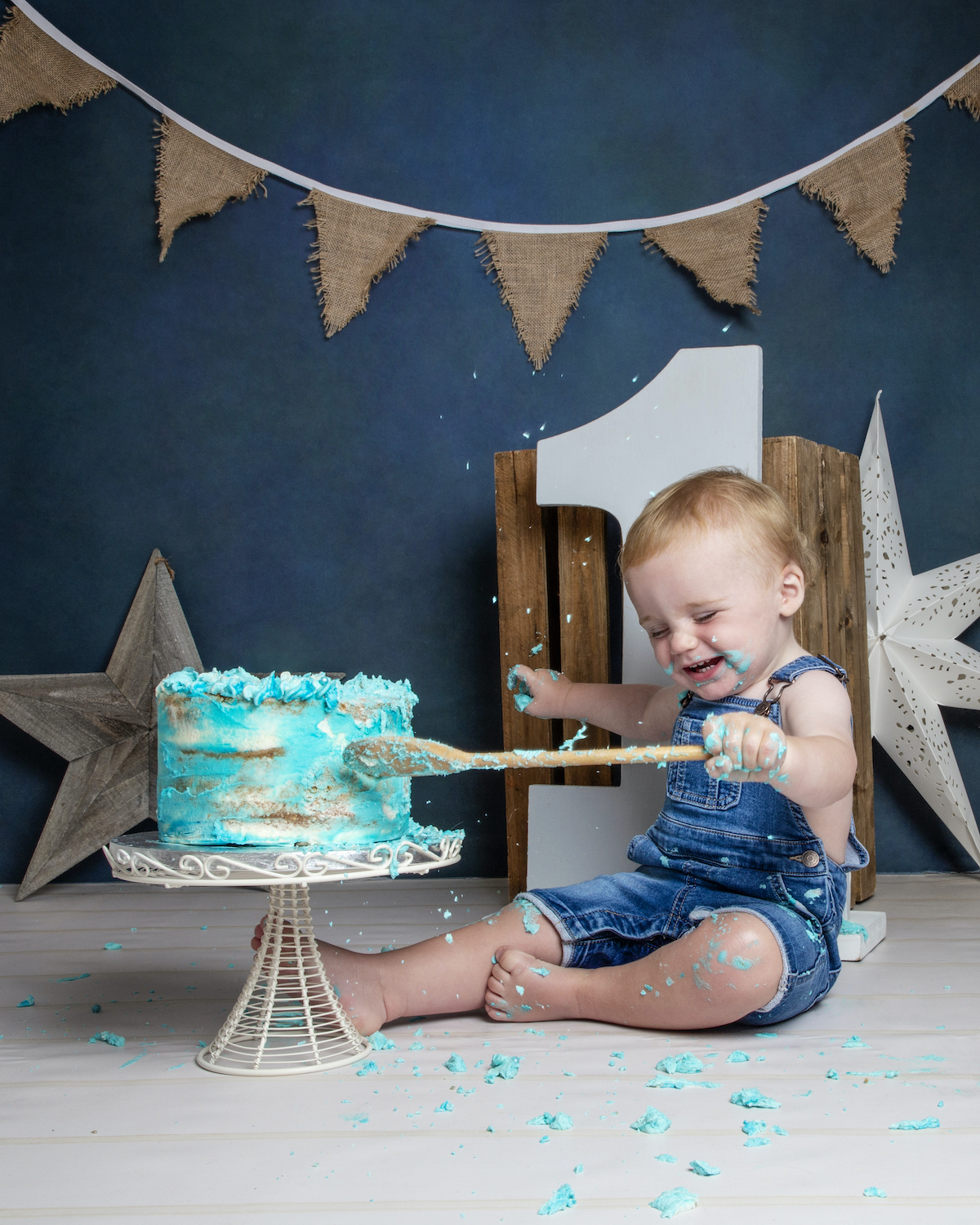 When we started doing Cake Smash sessions almost 7 years ago, we thought it would be a short-lived fad and a bit of fun whilst it lasted. Fast forward to 2021 and we now do more cake smash sessions than we ever thought possible, and they are getting more elaborate each session we do. It's easy to see why they are so popular. Not only do you get a great photoshoot of your baby who is about to reach their milestone first birthday, but it genuinely is such a fun shoot. Whether they go headfirst into the cake, throw it around the room or cry, each reaction is priceless and we are there to capture it all.
Deciding what theme to go for however can be the tricky part. There are so many options and if you google 'Cake Smash photography' you will be bombarded with a whole host of themes. They don't all photograph well, some are a little tacky and others are just plain boring!
So here is a shortlist of our top 4 Cake Smash themes, the ones we think look great, photograph well and will capture lovely photos of your little cherubs on their first birthday.
Naked/Floral
Sometimes the simple ones are the most effective. Soft colours and a naked cake pave the way for the most important thing – their expressions. Match this with simple clothes, or just a nappy cover for a really classic look. Perfect if you aren't sure which room of your house you would like to display your images too. This theme is also really easy to adapt to different seasons just by changing the colour of the flowers or props. Beautiful in Spring with gorgeous peonies but equally striking in Autumn with pine cones and neutral bunting.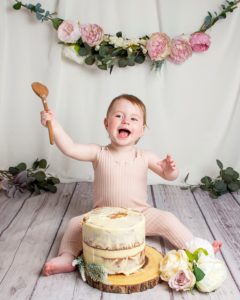 Wild one/woodland
We love the tones and colours of this one. It can be adapted to include a jungle theme too but the mix of the browns and greens look lovely with natural props and is perfect for Autumn/Winter babies.  You can also have great fun with the props with this theme. We have had large stuffed lions, toy monkeys and real tree stumps that look amazing in photos.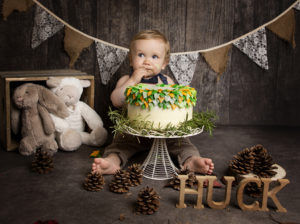 Pastel pink and blues
This is the theme we shoot the most. Whether you opt for pink or blue (or a mix of both) these are the most adaptable colours, work well with a whole host of outfits and it photographs really well. Props can be varied to add more colour contrast to the photoshoot but starting with a soft pastel base that photographs really well is a great start. Lots of different outfits also work well with this theme. Dungarees, tutu's, nappy covers, personalised t-shirts all look fabulous and if you would like to bring along any toys they also work with this theme.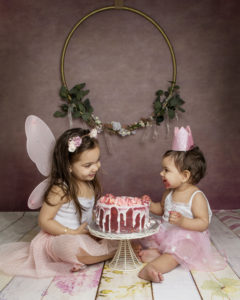 Rainbow
The most colourful one of them all. Chose to have colourful layers in the cake, sprinkles, bright backgrounds, multicoloured balloons and go for an all-out cake smash extravaganza! Keep the outfit simple with either denim dungarees or a nappy cover or go for a bright colourful outfit. Lots of our clients use these bright colourful photos in their children's bedroom or playroom as a feature because the colours are so vibrant.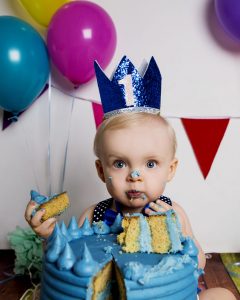 Whatever theme you would like, whether it is one on our top 4 list or something else you have seen or would like to try, please just ask. We love a challenge and with enough notice can source items to suit your theme. This month we have enjoyed a full-on Disney themed cake smash, a fairy princess complete with fairy wings and a Jungle Book theme.  We couldn't write a blog about our Cake Smash sessions without mentioning our fabulous cake maker Gulsun from P.S I love cake. Not only do they look amazing, but they also taste sensational and can be adapted for all allergies and dietary requirements.
Final note. There is a good reason we never use chocolate cake or brown icing, it doesn't photograph well and looks like something escaped from a nappy. 😉
If you would like more information on our Cake Smash sessions please drop us an email at bookings@raylowestudios.co.uk or call us for a chat on 01992 636152