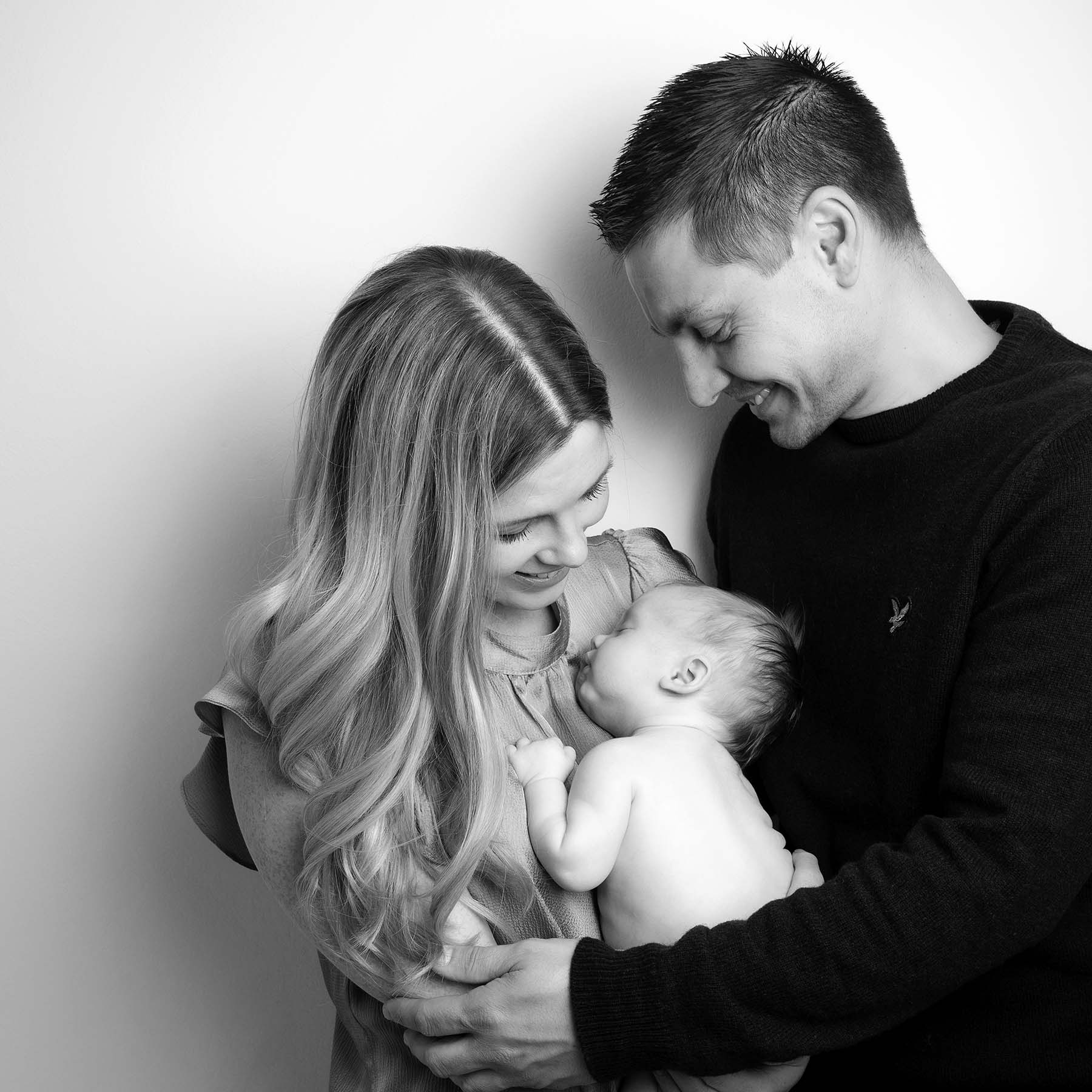 At the studio, we don't actually have a frequently asked questions section on our website for a good reason. As on most websites, they are always generic and you can never find the answer you are looking for. We would much rather our clients ask us questions directly as they are always as different as each session we shoot at the studio.
However, there is a string of similar questions that have been popping up on our live chat recently so we are now sharing our top frequently asked questions, which also makes a great subject for our blog.
Can I bring my pet along (to the session and the viewing)
Of course! All pets are welcome to any type of session whether it is a newborn, cake smash, or family shoot. Although we offer dedicated pet sessions, they are welcome to come along to any of our shoots. Why not bring them back for the viewing too? They can even sit right next to you on the sofa and enjoy a treat or two. A few of our clients get worried about little accidents happening in the studio. We're here to tell you it happens a lot and it is never an issue – we have hardwood floors throughout and lots of cleaning products!
Can other family members come and watch the session?
Again, we are very much in the mindset of 'more the merrier'.  It is always lovely when Grandparents want to come along to see their Grandchildren in the studio and most of the time, we can even convince them to be in a shot or two. If you have friends and family that want to come along to help, for support or just to enjoy the experience then they are more than welcome.
What happens if my newborn cries the whole way through the session?
Trust us when we say we have seen it all in the studio. Babies cry and sometimes no matter how many times we stop for feeding or changing, they just aren't in the mood to have photos taken. It's not a problem. We will simply re-book you for another session as soon as possible (so we can capture the curled-up newborn loveliness) and try again on a different day. We have years of experience when it comes to taking photos of newborns and each session is completely different and sometimes unpredictable.
Can we take photos in the studio?
The short answer is that we would rather you leave it to us to capture the best photos without your little ones looking over our shoulders at you. It's a bit distracting for them and you really won't get great photos on your phone.
Where do we park?       
When you book a session we will send you a map of the best places to park. There are two lay-bys a minute's walk from the studio. There are also two streets down the side of the shops which have plenty of free parking. Fingers crossed that shortly Broxbourne Council will finally approve our request to increase the parking directly outside our studio from 30 minutes to 1 hour which will make a big difference. If you want to stop outside the studio to unload, we can keep an eye on the kids/dog/bags whilst you move the car.
What do I need to bring to my session?
This depends on what type of session you are joining us for. After booking you will receive a handy hints and tips email tailored to your session with examples of things you may like to bring along. Below is a small list of things for each type of session that may help.
Family/children  – depends on the ages of the children but bring along their favourite teddy or toys and any hobbies they may be into. That includes the adults too. If you have a hobby or interest that you would like to include in your session (think musical instrument or sports equipment) then feel free to bring it along.
Bump/newborn – apart from the usual bag of things every baby needs, we find that teddies, blankets, scan photos, and newborn gifts can make the session really personal.
Pets – their favourite toys and treats always work well.
Cake smash – a change of clothes as it will get messy! We have lots of birthday props but if you would like to bring along anything personalized then that makes for some great photos.
Headshots/portfolio – just come as you are. If you have a portfolio session booked then bring along outfit changes for variety.
I've forgotten my voucher – what do I do?
It's not a problem, we will have a record of it being purchased (even if it was a gift) so we can work out what type of voucher you have.
Where are you based? Can I have someone come to our home?
We are based, and have been for the last 48 years, in Cheshunt, Hertfordshire. About two minutes from junction 25 of the M25. Unfortunately, all of our sessions are at the studio and we are unable to do home visits.
When should I book my newborn session?
Probably our most asked question about newborn sessions. We all know how unpredictable babies can be, so we recommend waiting until your baby has arrived and then giving us a call, dropping us an email, or messaging us on our live chat. There are a lot of Photographers who advise pre-booking which we are also happy to do but 9 times out of 10 we need to move the session as the baby hasn't made an appearance in time or parents need a little more recovery time. Just get in contact when you are ready and we will find a time that works for you.
How much is it?
This depends on what type of photo shoot you would like. Our sessions range between £25 – £69 and then we have a tailored product guide for each service. Head to our offers page for more details on all of our sessions and if you would like a product guide just drop us a message.
How do I book?
This one is simple. Just give us a call at 01992 636152 or if you can't speak (or are trying to do it sneakily) then just drop us an email or use live chat on our website. We will need your contact details, the people who will be taking part in the shoot, and whether you need to pay for your session or have a voucher.
If you have any questions that we haven't covered in this list, and we guarantee that you will, then please just get in touch with a member of the team and we are always happy to help.
Until next time x