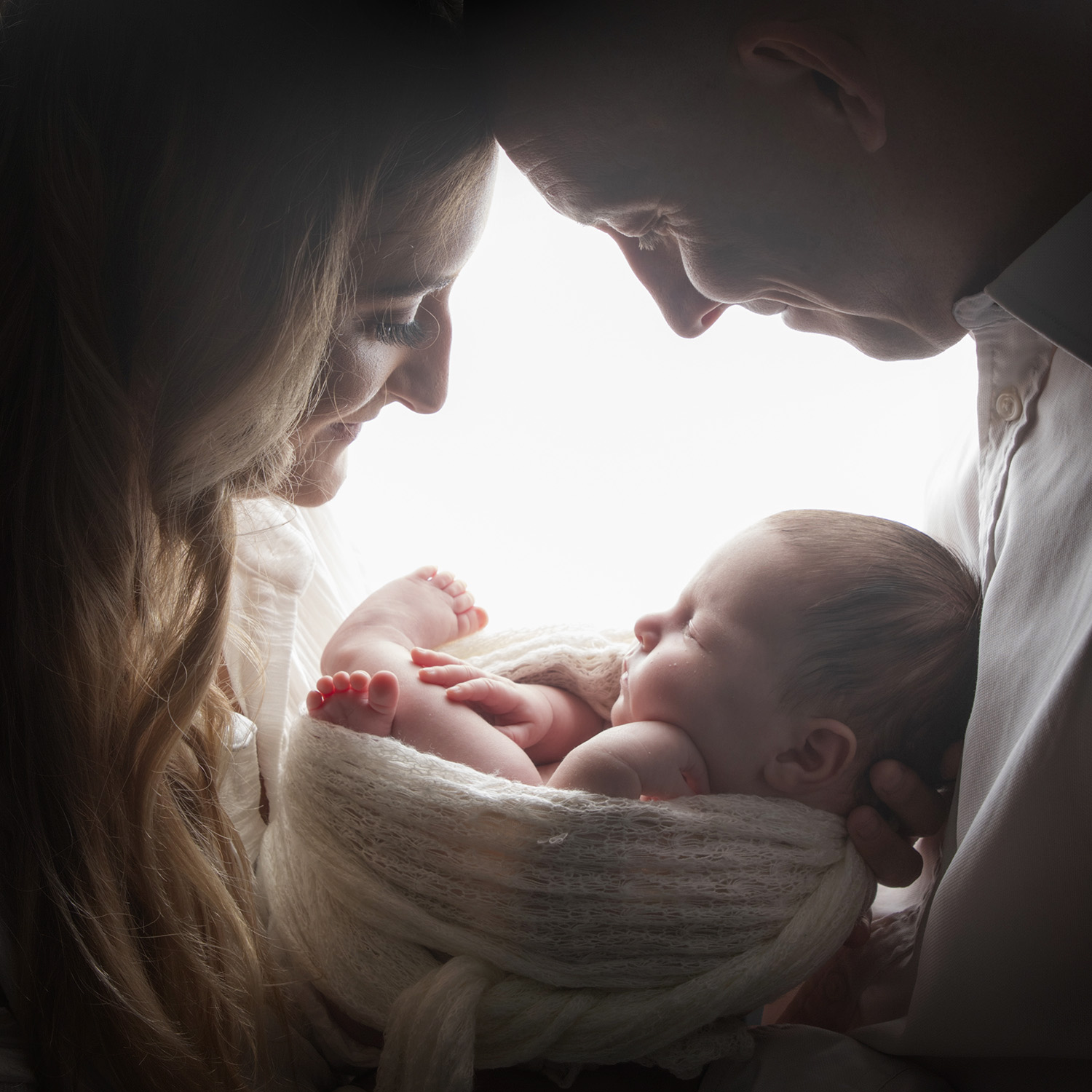 Are you wondering about what to wear during your newborn photography session? It can be stressful to try and figure out what outfit to wear for a newborn photo shoot. You want something that is comfortable, and timeless but also suitable for a shoot with your newborn baby. Our studio is usually very warm when we have a newborn session so wearing layers is a good idea and a change of clothes for everyone is a must as you never know what will happen!
You might think that what you wear is irrelevant – after all, it's just going to be a photo of your sweet baby snuggled up with its Mummy or Daddy, but what you wear during your session can make a difference.
The key to getting great newborn photos is simple: you want your baby to look like a baby. You don't want them to look like they are wearing their grandmother's cardigan. As gorgeous as baby clothes can be (we also can't resist buying them) they never really fit properly and will mostly swamp your baby's tiny frame.  So, for both practical and aesthetic reasons, try not to dress your baby in anything more than a onesie or nappy cover. We love to shoot them nude, wrapped in material, or covered with a blanket so clothes are less of a worry. This doesn't mean that you can't dress them in an outfit during your shoot, just bring it along with you and we can then get a variety of images.  Props including teddies, name blankets, and baby gifts can make for some really personal photos, and these are always worth bringing along to your session. If in doubt bring it all with you and your photographer will offer advice during your shoot.
If you have other people taking part in the shoot (Grandparents are always welcome to come along) make sure they also stick with simple outfits as exaggerated silhouettes and bright colours will distract from the main attraction – your beautiful baby. Logo's, stripes, polka dots, and graphics should be avoided, and a simple colour palette should be worn instead.
When dressing for your newborn session, the best advice is to be yourself. Picking outfits from your existing wardrobe means you won't have to do much planning or shopping, and let's face it that is the last thing you are thinking about when you have a new baby. The most popular colour palette that works really well includes white, beige, neutrals and greys along with black, blues and soft pastels.  Some of our clients will also consider where they will be displaying their images at home and think about the décor.
If you still aren't sure what to wear, then we find getting some inspiration can help. Head to our Pinterest page, Facebook or Instagram for examples of recent photoshoots at the studio or look online for options you think will work for your family. Failing that, either drop us a message or give us a call, we will always be happy to chat with you about outfit options.
Overall, our main aim is to capture your family, your style, your story…whatever that looks like! We look forward to welcoming you and your new arrival to the studio soon.