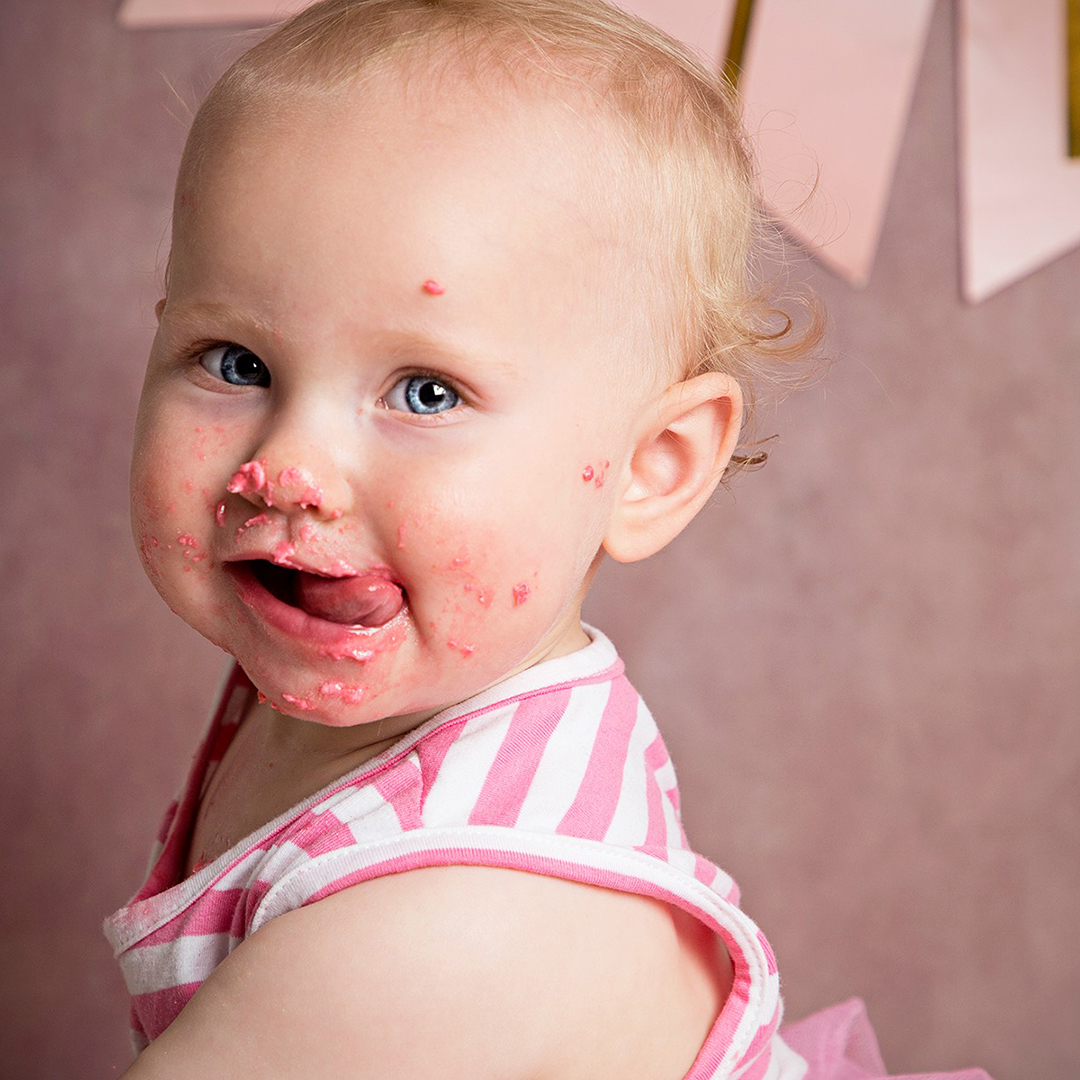 When we started offering Cake Smash sessions at the studio we never thought it would be as big as it now is. As with lots of photographic trends it was something we saw a lot of studios in America and an increasing number of customers were asking if it was something we would do. So we set up a few trial shoots to see how it would go, how much mess there would be to clear up and how the photos would turn out. We were sceptical at first but it was such fun and the photos tuned up great. Plus the kids absolutely loved it.
That was just over 5 years ago now and we now do a number of cake smash sessions every week. Our themes have expanded (plus we get asked for a whole host of new ones each month) and we know how to get the very best from the session.
If you are interested in booking a Cake Smash Session for your little one then here is our guide to what happens during the shoot…
Before you book your session think about whether you want the shoot to be on or close to your child's birthday, or if you would like the session done in advance so that they are ready in time for the big day instead. Some parents like to display the photos at their child's birthday party so make sure you book in at least 4-6 weeks before their birthday if this is something you would like to do.
Also consider what colours or theme you would for your child. All of our cakes are made to order by our fabulous cake maker so we can adapt the colours to suit. Most customers opt for either a pink or blue cake whilst others have requested a woodland theme or rainbow cake. Think about where the images will go, does your child's bedroom have a particular colour theme? If you aren't sure what to do then just ask us when you are booking, we are happy to have a chat about what would work for you and your child and offer some advice. We also offer variations on our standard cakes. If your child has a allergy or intolerance the cake can be made to your specification. Please just mention this to a member of staff whilst you are booking your session.
Once you have booked your shoot it is sometimes a good idea to do a little messy play with your child before they come along to the session. We do have children in the studio who are scared to touch the cake or don't like getting messy. Although once they have a little taste of the cake we usually find this helps them!
The first part of the shoot is without the cake so feel free to bring along a lovely party outfit for them to wear. We have a range of balloons, bunting and number props to display in the photos to make the shoot all about them and their big day. However it is also a nice idea to bring along items from home that would make it more personal. Some parents bring along birthday gifts that get opened, personalised helium balloons or their favourite toys. These all make for great photos.
Around half way through the session we stop so you can get your child changed (and parents if you wish as you will probably get covered in cake too!). Make sure you bring something along that you are happy getting totally covered in cake. We find little skirts or shorts with bare tops looks great, dungarees or tutu's and accessories such as bowties or headbands really work well. If you are unsure what to wear than just bring it along and your photographer can help choose. For some inspiration head over to our Pinterest for more examples.
Any siblings or family members (including pets) are always welcome along to join in the session too. It's great fun to do but just make sure everyone brings a change of clothes to travel home in. We tend to set up a backdrop to compliment the cake and the outfit you have bought along for your child and then do a variety of poses including smashing and eating the cake. Sometimes the cake gets smashed to pieces and sometimes the child doesn't want to smash it so you get to take it home to enjoy with a nice cup of tea later! Either way you will get a good variety of shots to see during your viewing appointment. The best part is that we clear up afterwards and we always have some baby wipes and cleaning aids on hand too.
Why do we think it's a great session to do? Because as every parent will tell you the days may be long but the years fly by. Celebrating your child's birthday with cake is not only great fun but getting images of them covered in cake and loving every minute….now that is something worth capturing!
For more information on our cake smash sessions and pricing head over to our cake smash section on the website.