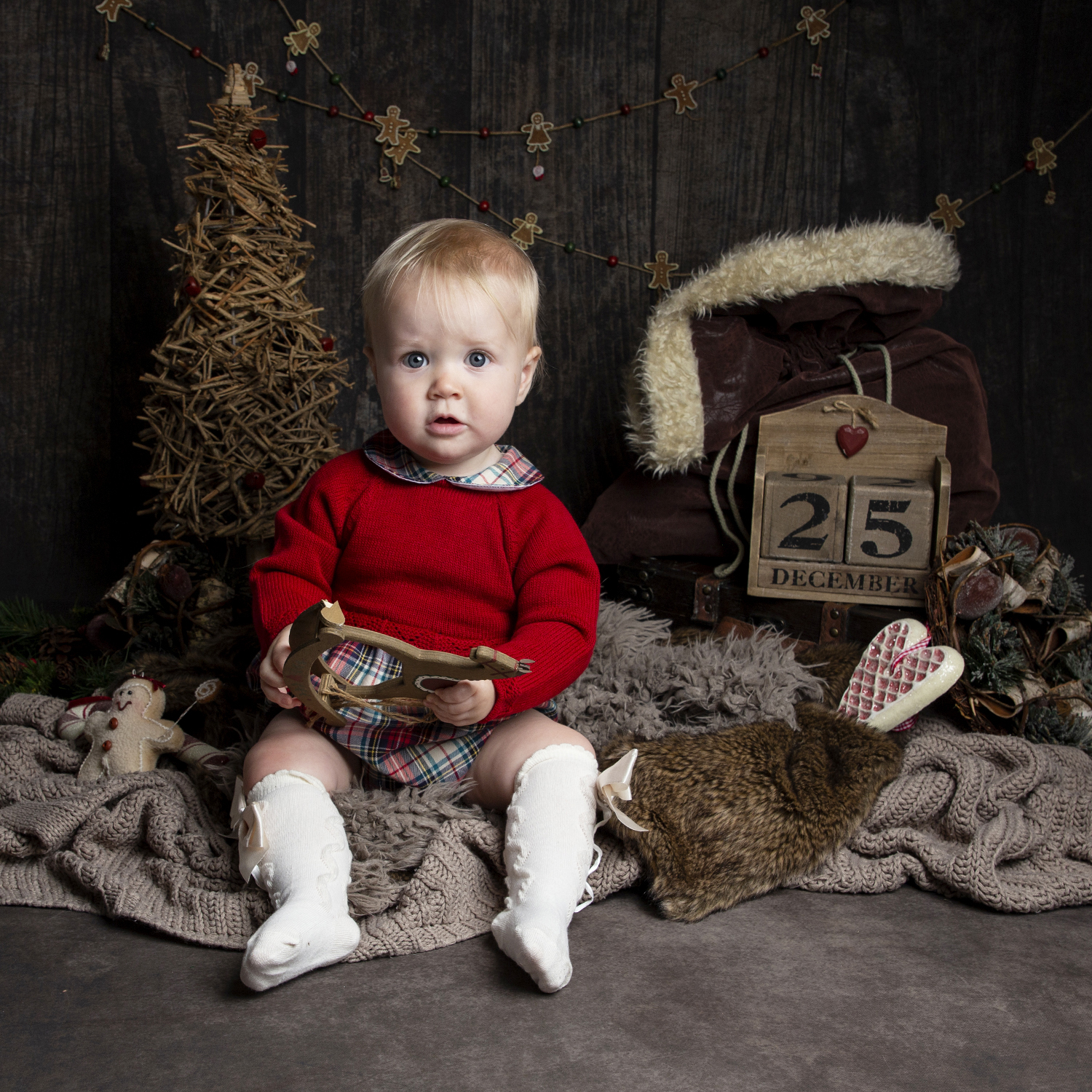 The presents are wrapped and the food is ready but taking festive photos at home are often a last thought and requires a little planning. It really is the best time of year to capture photos of your little one's playing, opening presents and enjoying themselves. Add in festive lighting and a great big Christmas tree and you have the perfect backdrop! Here are our top tips for capturing some great photos this year:
1. Capturing the cosy atmosphere
This time of year there are some great lighting opportunities. Use the glow of Christmas lights, candles and experiment with natural light at different times of the day to create different moods and capture cosy images. The children under the tree opening presents by the glow of the Christmas lights, drinking a cup of hot chocolate in their pyjamas by candlelight, playing in the garden in the beautiful light of the evening are a few to get you started.
2. The details are the best bit!
Your favourite festive bauble, the stockings hanging over the fireplace, the cookies waiting for Santa…all these things are the essence of Christmas and are worth a photo on their own. Spend some time taking photos of things that mean the most to you and your family this year because it's those little details that will mean so much more in years to come. Put these details together and you have a great Christmas card ready for next year too.
3. Expressions
We all have that one photo that was taken when we were kids where we are opening the present of our dreams and pure joy is written all over our faces. Be ready and waiting, camera in hand for those moments. Get down to their level and get as close as you can  as this is a moment you must capture in a flash. Speaking of flash, make sure your room is bright enough on Christmas morning to capture those photos. This doesn't only apply to children either, grown ups still pull those faces too!
4. Our furry friends 
They usually get forgotten at Christmas but make the best subjects when you are home over the holidays. Wrapped up in leftover Christmas paper (with a head poking out), napping on the sofa with the kids or playing with their new toy, make sure you capture your furry friends.
5. Food glorious food
To make your photos even more memorable try taking photos of your Christmas food, even during the process. This gives you a opportunity to try different angles and play around a bit. Why not try adding props such as twigs/flowers/baubles around the food on the table for a real show stopping photo.
6. Classic v Candid
Both are great. Whether you are all perched on the sofa with a slightly tipsy smile plastered on your face or taking photos of the kids play fighting on the kitchen floor just make sure you capture the moment. It sounds cheesy but these are the moments that you will want to remember when the kids are all grown up and running around after their own children.
7. The Christmas Card
Now this one needs to be done early in order to get them printed in time for Christmas card season. Drag your decorations out earlier and experiment with different set ups until your find something that works at home. Get them made into Christmas cards and post them far and wide for all to see. You'll be the envy of all of your friends and family with the best Christmas card around.
That's it! Hopefully our tips have given you a little inspiration to help with taking photos of your loved ones this Christmas. Dust off your camera and get snapping!  Need any advice or help? Head over to our website and drop us a message over in our Live Chat section.